So How Many Signals Can a CAT6 Cable Really Hold When Moving a Digital Signage Signal?
Video signal distribution in a digital age is so much more complicated than in old days – 2012 or so, when VGA was still the predominant standard for moving video in digital signage applications.  Today VGA is declining significantly as more and more player manufacturers move to DisplayPort or HDMI for their video connections.
So what do you do?  There are many companies who have adopted the HDBaseT standard for moving signals today.  HDBaseT is the global standard for the transmission of ultra-high-definition video & audio, Ethernet, controls, USB and up to 100W of power over a single CAT6 cable, for up to 100 m/328 ft.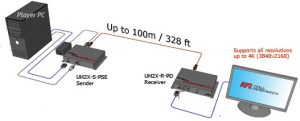 One example of the utilization of this technology is a HDBaseT Extender (UH2X-P1) by Hall Research.  This neat little solution extends uncompressed audio/video along with IR, RS232, USB 2.0, and IP (Ethernet) using a single run of CAT5e/6 cable up to 100m long.  The PoH compliant extender comes with only one power supply that plugs to the sender.
When and where do you use extension in Digital Signage?  There are really two scenarios that have proven to be worth the consideration.
The first is whenever you are placing screens in areas where they are difficult to reach during business hours or reaching them will disrupt the core business.  Examples of this might include checkout lines at retail, amusement park lines, shopping malls, office bull pens and break rooms, etc.…
The second scenario is whenever you are placing screens in environments that are detrimental to the performance of the player.  Examples here might include shop/manufacturing floors, over the fryers in quick serve restaurants, outdoors in bus or train stations and outdoor menu boards to name a few.
Using a product like the UH2X-P1 will save you considerably on the cost of servicing your digital signage network and reducing the amount of downtime by having access to the players.  Want some more information, check out the produ ct page on the Hall Research website.