I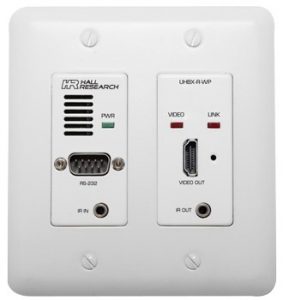 nside of the wall is a CAT6 shielded cable.  There is a source up to 150m (500 ft.) away sending uncompressed HDMI video, RS232 and IR signals.  This clever receiver is perfectly suited for installations where there is a shallow space between the wall and the display.
The receiver (UHBX-R-WP) is compatible with any HDBaseT compliant transmitter with PoH sourcing functionality.
Very cool implementation of the HDBaseT protocol, this product is available through Hall Research and their network of authorized dealers and VARS.
So, what makes HDBaseT so special and how do I best utilize the technology?  As we talked about in our last blog post – HDBaseT moves up to five different signals over distance using a CAT6 cable.  Manufacturers can use the chipsets from a company named Valens to implement this protocol.  They can customize the solution to meet the application.
In the example above, most often used for connecting projectors or large format screens to PC sources located a distance away, the signals being extended include video, audio (through the HDMI), control (both IR & RS232) and power.
What's exciting about the direction that signal management is taking today, is the flexibility you get utilizing HDBaseT technology in different ways to meet the need of the application.  In the analog world, just a few short years ago, sending VGA, Audio and RS232 over CAT5 cable was pretty much where the industry's signal management maxed out in digital signage deployments.  Today, with HDBaseT, the world opens to many other applications including PoH, USB and Ethernet signals being added to the possibilities.
So, how do I utilize the best product for my application of signal management?  The best way to start is by looking at the problem you are looking to solve and then imagining what you might want to do in the space in the future.
For instance, taking the example of the HDBaseT receiver above, we are sending a signal from a source to a display (projector) in a classroom like environment.  Will we ever want to send more than video, audio and control?  The answer is most probably not.  Therefore, a receiver that can be powered remotely, capturing video, audio and control will meet your requirements today and well into the future.
Another example may show that this receiver is not the best choice.  If you are in a digital signage installation for instance, and you are considering using a touch interface to drive the content, your signal management will now also need to accommodate USB extension, in addition to video, audio and control.  You will need to find a transmitter and receiver that adds USB to the mix.  An example of this type of product from Hall Research is the UH2X-P1, which we highlighted in our last blog post.
What you will find is that most implementations of HDBaseT that includes 5 Play™, will include all the signals supported – Uncompressed, ultra-HD audio & video, 100BaseT Ethernet, USB 2.0, Control signals (IR, CEC, RS232) and Power (up to 100W).

So, best practice, use the signal management equipment that solves your problem for today and future proofs against possibilities you may want in the future.    Want more information?  Please contact Hall Research today.
Save
Save