Review: Solving Video Wall Problems with the Matrox QuadHead2Go Series
By Alan and Jonathan Brawn
Principals, Brawn Consulting
For the resellers and integrators within the pro AV and digital signage industries, everything relates (directly and sometimes indirectly) to solving problems for their customers. Within those industries, we can simplify everything down into two overall types of projects. The first is an upgrade and refurbishment to an existing system or installation; and the second is a totally new system design. In either case, the designers are confronted with goals and objectives they need to accomplish. These represent the business outcomes and results that an end user expects. To reach those desired outcomes, challenges (or as we called them before, problems) must be overcome.
The tools of the trade that integrators have at their disposal to solve those problems reside within the solutions offered by their technology suppliers. This means that the selection of suppliers is key, and who those key partners will become is a decision unto itself. The quality and capability of both products and overall technologies should simply be a given. These products must solve problems in the most expedient ways. There also must be a relationship with the reseller, and trust between both parties. In reality the outcome of projects depends upon both products and trust. Increasingly, we are deploying videowalls and multiple displays systems in these sorts of AV and signage projects… and where multi-monitor videowalls are a key part of the system is where Matrox and their QuadHead2Go™ series of products fit the definition of an effective solution. Here is my take.
Having worked with Matrox products for many years (utilizing graphics cards and products dating back nearly 4 decades) their focus has always been engineering excellence in focused markets. For those not familiar with the provenance of Matrox, they are a Canadian based company founded in 1976. This is a company with a well-earned (and long standing) reputation for engineering, product quality, and service.
This then brings us to the new QuadHead2Go series of products. What is the QuadHead2Go, and what does it provide in terms of problem solving?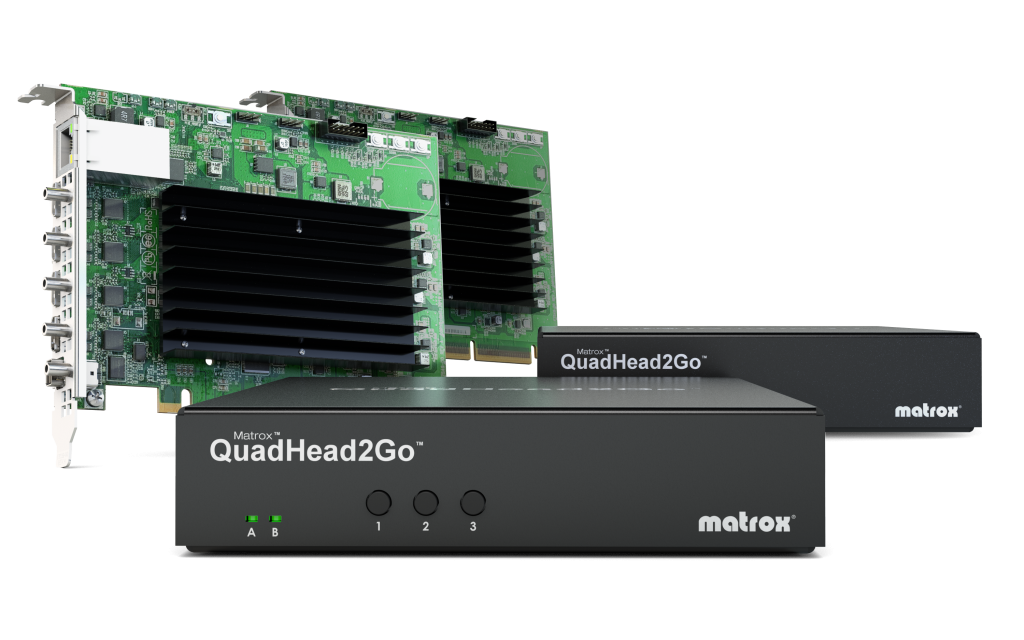 In short, the QuadHead2Go is a multi-monitor controller, designed to allow for a single video output—such as graphics cards, video wall controllers, media players, laptops—to be expanded out to 4 separate monitors (at full resolution) showing individual content on each screen. The displays can be any aspect ratio and rotated into either portrait or landscape. It allows for the use of a more "traditional" physical layout of displays side by side (or top and bottom) like many of us already have on our desktop (Writing this on 2 displays side by side, driven off my laptop; it only has two video outputs. I miss my evaluation QuadHead2Go already!), or you can array the displays any way you like. This has several immediate videowall applications – the most obvious of which is the typical rectangular videowall (as seen in control rooms, for example) … but it can have other uses as well! Perhaps it is time to be creative and think outside of the rectangle. Consider a single digital signage media player (which are typically PCs!) and the fact that a QuadHead2Go could allow you to drive signage content across 4 Full HD displays; that's an instant videowall design (or signage upgrade), and allows for creativity in spanning content, even if the screens are not adjacent to each other.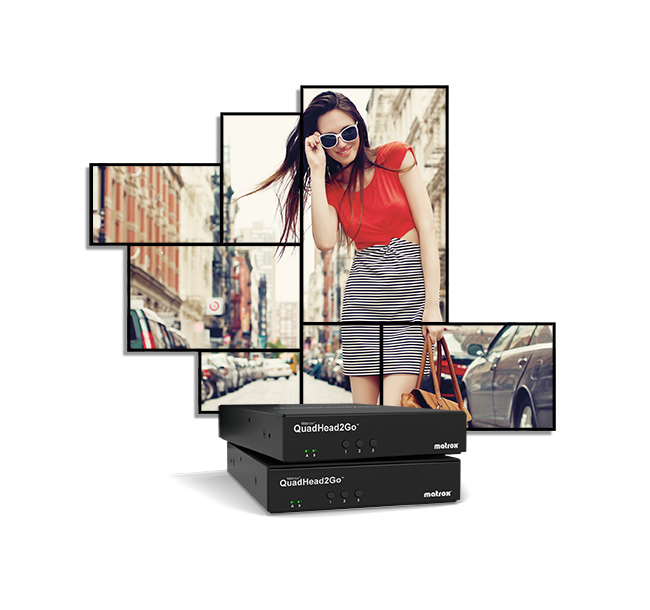 Management for your new multiple displays is provided via the Matrox PowerWall™ software… and I might add it is actually intuitive and easy to use. APIs, SDKs, and libraries are also available for system integrators and AV installers to create custom control functions and applications. Of course, some will be saying "These are great! But what if I want more than 4 displays?". After I get done wondering if you are a display junkie like me (NEVER. ENOUGH. DISPLAYS.), I'd ask you to relax… Matrox actually thought of this, which in itself is impressive. The QuadHead2Go comes in both appliances (the model we reviewed) and single-slot PCIe cards, requiring only power from the system. This means you can combine units to create display groups of any size and type. Each QuadHead2Go appliance or card can drive a single video source (DisplayPort or HDMI) across quadruple, triple, or dual displays, in classic rectangular 2×2, 2×1, 3×1, 4×1, 1×2, 1×3, or 1×4, or a variety of other artistic configurations. Multiple QuadHead2Go appliances or cards can be used together to easily scale up to a videowall of any possible dimension and complexity. They even included bezel management and HDCP is supported as well.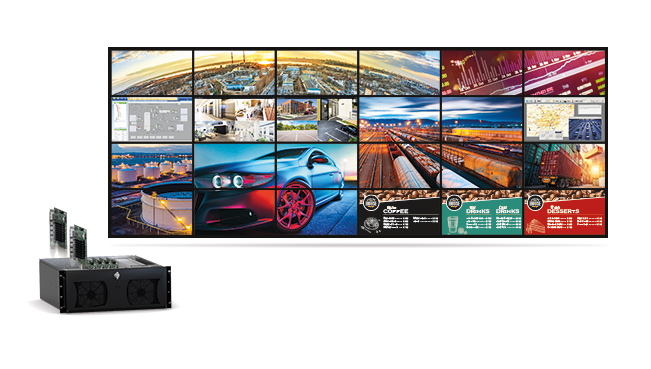 Yes, the hardware is well engineered with solid construction and backed by an iconic company… but there is more to consider. The QuadHead2Go:
Facilitates the use of videowalls for a variety of applications
Easy to deploy both as a new system, or a system upgrade
The units are truly plug and play
Setup and troubleshooting is handled easily, due to the simplicity of the system
Provides future proofing of existing systems up to 8K x 8K input resolution
The QuadHead2Go checks off all the videowall matrix boxes. It is scalable, easy-to-implement, easy-to-use plus reliable, and easy-to-maintain. It comes from an iconic company founded on engineering and service and best of all it solves problems for both integrators and end users alike. We call that a win all around and would like to thank the team at Matrox for allowing us to evaluate it! Let the videowall problems be solved!