HDMI at Its Best – Hall Research 4K-Javelin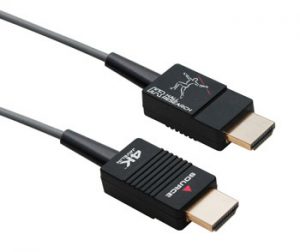 The concept of HDMI is so good because it's easy to connect and does everything in one connector. It's able to transmit high data rates for uncompressed video, embedded audio, and it complies with a whole host of standards and controls. It even has an option to carry power over the cable. Sounds perfect, but it does have limitations. For most commercial applications these limitations include, short maximum cable distance, non-locking connectors, and the fact that it does not allow terminations in the field.  None the less, HDMI is showing up as a connector on most professional equipment despite the fact that limitations have not been overcome. On the plus side, it does handle 4K and that is a growing consideration. While 4K doesn't require HDMI, a single cable is easier to work with than four individual SDI cables. While there are still shortcomings, the good news is that Hall Research has addressed the biggest issue of all, maximum cable length. Their 4K Javelin HDMI cable is capable of carrying the standard protocol and data at lengths of up to 333 feet. Let's take a look at how it works.
It all boils down to using video signal conversion in one form or another which makes installation simpler, easier, and cheaper by taking advantage of using fiber or Cat5 with no data loss. Most of the video signal converters on the market require a power converter box on each end of the cable to convert the signal before transmission, and then convert it back on the receiving side. This can be really inconvenient in many cases because the converter boxes often require their own power and frankly have been found to be a point of weakness and potential failure.
While the concept is similar, the 4K Javelin HDMI cable uses a fiber-copper hybrid as the transmission medium. Rather than a power converter box on each end, the Javelin has all the circuitry incorporated inside the HDMI connectors. The sending side converts the video signals to light pulses and the destination side converts it back. The whole package is powered from the 5V signal pin of the source HDMI output. The cable draws less than 0.25W of power from the source. In the unlikely event that your HDMI source doesn't provide enough power, Hall Research has an inline power inserter, which attaches between the HDMI connector and the source. This pass-thru adapter has a connector for a power cable and can insert 5V from an external power supply.
As you know, standard HDMI cables are non-plenum rated and come in 6-25 feet lengths, falling far short of most commercial applications. The 4K Javelin cable is 3.5mm thin, and weighing only 12 ounces for a 50-foot cable making it easier to install. It is Plenum rated to boot, making it perfect for commercial installations. Because it uses fiber optics, the cable provides higher immunity to interference such as EMI or RFI, and there is less chance of noise. It is resolution independent and can handle any resolution, including non-standard video formats or color depth, provided the maximum data rate is less than 10.2 Gbps. Since no compression is used, the image at the far end of the cable is 100% identical to the source.
Of course cost is always a consideration but keep in mind this cable is replacing a converter transmitter/ receiver combo along with the elimination of potential points of failure at each end which depending upon the manufacturer could retail for several hundred dollars each. The bottom line is the 4K Javelin takes HDMI to the next level and future proofs a system while providing less chance of system noise and potential failure.