SOUND CRAZY, SOMETIMES IT IS – Part 1
Getting sound to sound good is sometimes a challenging and frustrating experience. I've never been much of a sound guy (just ask my family!), and that's why we can't ever seem to get all the speakers in our home theater to work together properly. Anyway… that's another story for another time.
Back to sound being frustrating and challenging. I was recently sitting with my younger brother's family and my Mom at one of my niece's high school plays. She's a senior, so my family has made this trip several times to see her and her older brother perform. As we sat down in the third row, I noticed the speakers for the sound system were hung from the walls over the top of the stage. I mentioned to my brother that I thought hearing the dialogue might be a challenge as the pit was just in front of us. Sure enough, the pit band was right there, some portion of the spoken words went over our heads and the performance was sometimes challenging to hear. Anybody else ever been in that position? I thought of a way to fix it.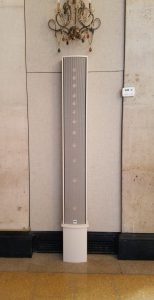 So let me tell you what I learned from a good, new friend, Frank Ostrander. Frank has taught me that sound is about patterns, waves, and especially math… with all sorts of rules and criteria that go into making good sound systems work. Frank was a line array design engineer at some of the leading names in the sound industry, like JBL, Renkus-Heinz and Bose… so I think he knows what he's talking about. Today, he is associated with a small company called American Technical Furniture, working on their GO Audio line array speakers.
At its most basic, Wikipedia™ defines a line array as "a loudspeaker system made up of several (usually) identical speaker elements mounted in a line and fed in phase, to create a near-line source of sound. The distance between adjacent drivers is close enough that they constructively interfere with each other to send sound waves farther than traditional horn-loaded loudspeakers, and with a more evenly distributed sound output pattern". (https://en.wikipedia.org/wiki/Line_array) Frank, using some very unique algorithms, has designed a family of new line array speakers for GO Audio that are nothing short of amazing.
I've had the opportunity to see them in live action in three different venues that are as challenging for sound engineers as they come. As the opportunities get approved and installed, I will report further.
Scenario one (hence why I called this Part 1) is the Hall of Springs in Saratoga, New York. This 82-year-old structure was once a spring house/spa for the rich and famous. In recent years, it serves as a venue for corporate events, galas, weddings and other parties as well as fund raising events for many non-profit organizations. The entire structure including the grand ballroom, bar and vestibules are constructed out of marble. The walls are 30 feet high with a magnificent cupola. In other words, a sound engineer's nightmare.

The Hall of Springs is managed on-site by Mazzone Hospitality. Mazzone approached Technical Video, a local AV system integrator, to suggest ways in which they could improve the sound quality within the venue, especially the spoken word. Kyle Faulkner, their integration manager approached Go Audio for a demonstration, which Frank and I set up and attended with Kyle and our local rep.
To say I was blown away by the quality and intelligibility of the voice (and music) produced by the SA-12 set of line array speakers is a complete understatement. They sounded magnificent – speech or music – at pretty much any volume we tested. The customer was extremely impressed as well as they wandered around the entire venue, checking for the usual garbled sound they were used to. They couldn't find a spot in the venue where the voices weren't clear, concise and understandable. It was a win-win all the way around.
There are more success stories coming, but in the meantime, I would urge you to consider the GO Audio line arrays in any venue where sound quality and voice recognition is an issue. They really can't be compared with anything on the market today. Want more information on the Case Study on the Hall of Springs, visit Hall-of-Springs-Case-Study today. Until the next time – good luck and good selling…