Top 50 Benefits of Digital Signage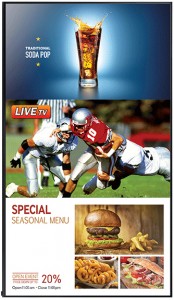 As we all know, features entice but benefits sell. As you tout digital signage out there as a solution to communication needs, select as many of the 50 tangible benefits listed below as you want to make your case.
Centralized and remote management, with near real time update of content from anywhere with an internet connection.
Take advantage of day-part scheduling to show different menus or items based on the time of day or day of the week.
Can influence customers' purchasing decisions.
Display targeted content to cater to their wants and needs.
Increase audience engagement with special deals or coupons only available through your digital signs.
Reduce both real and perceived wait times.
Ability to up-sell and promote special items with strategic integration.
Makes it easy to change screen templates for new items, new pricing, sold out items, and more.
Enhance customers' experience.
Ensures visual consistency and compliance across multiple locations.
Displays emergency messaging in real time.
Easy to comply with new local, state, federal, and international menu board regulations regarding food ingredients.
Display calendars, schedules, and upcoming events to keep viewers informed.
Eliminate the recurring costs associated with printing and shipping new static signs.
Attract more attention by using motion graphics and video.
Connected to the internet, allows real-time news feeds, social media feeds, weather updates, blog posts, and video content all to be incorporated into displays.
Ability to overcome spatial limitations by fitting more content onto one sign, reducing the amount of signs you need overall.
Digital signage increases foot traffic.
Provide directions and interactive wayfinding options for people in large facilities like school campuses, hospitals, airports, and shopping centers.
Customers can interact directly with your signs by sharing photos, videos, and social statuses, and see their content displayed on screens in real-time.
You will always be able to deliver content on time not waiting on print advertising to be made and shipped.
Digital signs increase brand awareness.
Staff can be trained more efficiently using digital signs during or after business hours.
Improve customer relationships and provide an opportunity to learn more about individual customers.
Creates a sense of community—you can give back to the community by displaying local news, events, or charity drives, and customers will, in turn, view your company as a local supporter.
Improve employee and company-wide communication—everyone can be on the same page.
Design new digital sign content with templates and custom graphics without hiring a graphic designer to help.
Digital signs increase impulse purchases.
Complement social media efforts by showing your company's Facebook, Instagram, or Twitter feeds, and allowing customers' status updates to be displayed using unique hashtags.
Help with cross-promotion, allowing you to team up with other local businesses to provide ad space and gain publicity.
Digital displays create an immediate impression that lasts.
Keep customers in your establishment longer.
Create loyalty by providing a unique customer experience that makes people want to return to your establishment.
Improve customer service by providing viewers the relevant information they need when they need it.
Differentiate from the competition by setting you apart.
Improve your internal marketing to motivate and empower employees.
Increase overall sales.
Collect valuable data about your viewers based on how they interact with your digital signs.
Provides a platform for customers or viewers to give feedback, and their product reviews or answers to surveys can be displayed on your screens.
Improve the aesthetics of your facility and create a more enticing storefront.
By using mobile interactivity, your sign viewers can download any content you offer on your displays—whether it's a discount code, a map of your facility, or a calendar of events.
You can use content from your company's website on your digital signs (and vice versa), which saves you time and creates more exposure for your message.
Digital signs can save employees' time by providing answers to questions that customers frequently ask.
Relieve stress of viewers when located in potentially stressful areas, such as hospital waiting rooms or busy checkout areas.
Digital signs help with cross-selling by promoting the different products and services.
Digital signs can be used in any organization—large or small.
You can schedule the content for your digital displays in advance, so they can change and update automatically without your constant supervision.
Digital signage allows you to display multiple forms of content at once.
Digital signs can get information across to all learning types—from readers to listeners to hands-on learners.
Digital signs allow you to display content 24/7—even when you're not open—so customers are always aware of your company's presence.